Back to blog posts
11 Aug 2023
July 2023 RubyGems Updates
Welcome to the RubyGems monthly update! As part of our efforts at Ruby Central, we publish a recap of the work that we've done the previous month. Read on to find out what updates were made to RubyGems and RubyGems.org in July.
RubyGems News
This month in RubyGems, we released 3.4.16, 3.4.17 and Bundler 2.4.16, 2.4.17.
In RubyGems, we improved certain gem install invocations that had gotten slower since the dependencies API was phased out. In Bundler, the above releases include several improvements such as fixes related to locked platforms, improvements to make sections related to Git gems stable, and some other regression fixes.
Some other improvements that landed into our repo this month but that are not included in the above releases are:
In July, RubyGems gained 96 new commits contributed by 13 authors. There were 1,559 additions and 695 deletions across 86 files.
RubyGems.org News
This month, RubyGems.org saw several bug fixes and updates, some of which include: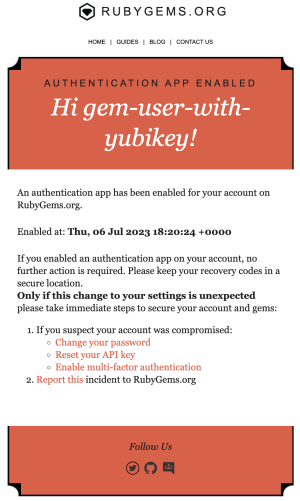 In July, RubyGems gained 99 new commits contributed by 18 authors. There were 2,460 additions and 1,566 deletions across 128 files.
Thank you
Thank you to all the contributors of RubyGems and RubyGems.org for this month! Your contributions are greatly appreciated, and we are grateful for your support.
Contributors to RubyGems:
Contributors to RubyGems.org:
---
Learn more about contributing to RubyGems by visiting the RubyGems Contributing Guide. We welcome all kinds of contributions, including bug fixes, feature implementation, writing and updating documentation, and bug triage.